45 best photo apps and photo editing software
If you want to get the best out of your photos, you need a great photo app on your smartphone plus photo editing software on your tablet or computer that allows you to express your creativity. That's why we have put together a definitive guide to the best photo apps, covering iOS and Android apps, and also listed the finest photo editing software for desktop, tablet, or browser.
Let's start off with photo apps. We have divided them up into three subsections: image manipulation apps, camera apps for taking photos on your device, and artistic photo apps. On page two we reveal the finest photo editing software available for desktop, browser, tablet – and some have smartphone versions, too. Every price point and ability level is covered, so you're bound to find the right application/s for you.
Best image manipulation apps
01. Photoshop Lightroom CC for mobile
Adobe makes a number of photo apps but if you're serious about photo editing on your device, you only need one: Photoshop Lightroom CC for mobile. It's a free app that gives you a powerful yet simple solution for capturing, editing and sharing your photos. 
You can shoot raw photos (on compatible phones), or transfer from your camera onto your device, and easily organise and tweak them, then automatically upload them to the cloud so they don't take up space on your device. It has presets to keep your edits quick and simple, but you can also go deeper and fine-tune images to perfection. 
Signing up to a Creative Cloud account – including the Lightroom CC plan, adds the ability to work across phone, tablet and desktop with instant synchronisation.
02. Photoshop Express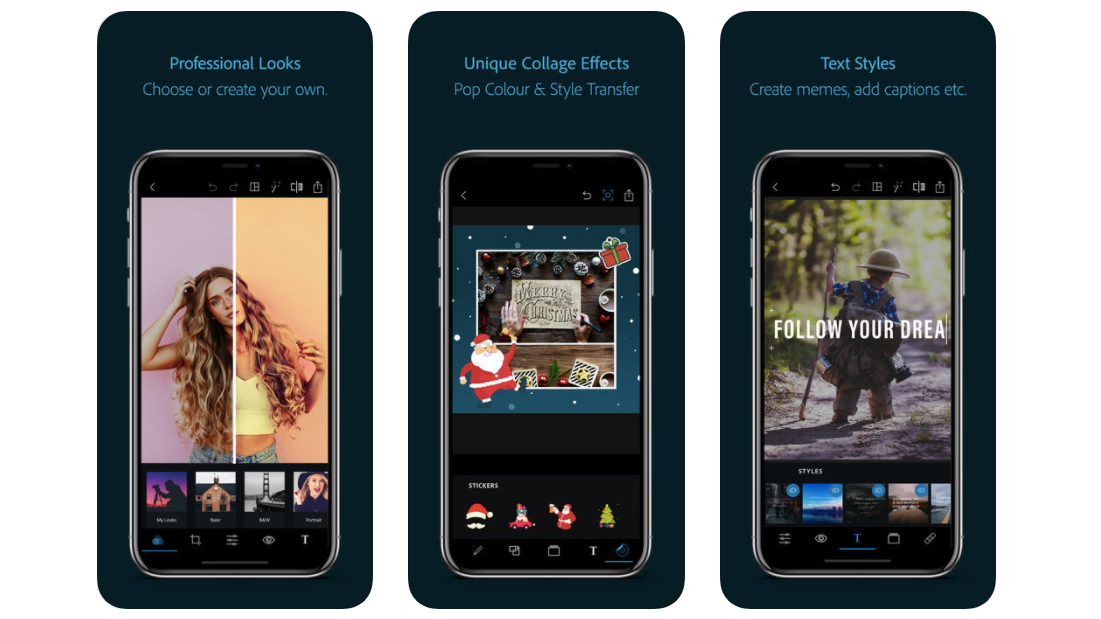 As you would expect from Adobe, the interface and user experience of the Photoshop Express photo app for Apple and Android devices is faultless. It fulfils all the functions you need for picture editing and will probably be the one you turn to for sheer convenience. Straighten and Flip are two useful functions not included in many other apps.
However, none of the filters really jump out, and some are surprisingly naff for an app that comes from the developer for designers. Ultimately, if you are looking for a more professional tool, look towards Lightroom CC for mobile, but the cut-down feel and familiarity of PS Express will suit some.
03. Photoshop Mix
Photoshop Mix is an app that caters more for those looking to make big statements than those making subtle adjustments, and it's none the worse for it. PS Mix enables you to cut out and combine elements from different images, blend layers and make adjustments to your creations on your device, and it majors in ease-of-use. 
Usefully, it live-syncs with Photoshop CC, meaning that when you make a change on your phone, it'll show up instantly on your desktop – and you can take advantage of Creative Cloud benefits with an Adobe Photography Plan, which saves a fair bit of cash over a full subscription.
04. Photoshop Fix
With Photoshop Fix, you can make the most common image adjustments very easily, right on your smart device, without having to transfer your photos to a desktop computer and use expensive photo editing software. At your fingertips are the tools to liquify, heal, lighten, colour and adjust your images to perfection, plus you can experiment with painting tools and vignettes, control exposure, contrast, saturation and focus.
As with all Adobe mobile apps, having a Creative Cloud account opens up the ability to instantly share your work with other CC apps on desktop or mobile, but Photoshop Fix is probably best Adobe app for those just looking to make their smartphone photos better without requiring deep knowledge of editing tools.
05. Google PhotoScan
It's all very well being able edit photos on your phone or computer, but what about those old pre-digital prints you have lying around? If putting them all through a scanner's too much for you, there's an app that makes digitising your ancient snaps much easier. 
Google's PhotoScan enables you to scan photos with your phone in seconds, without unsightly glare and shadows; head this way for some great tips on how to get the best out of it.
06. Qwik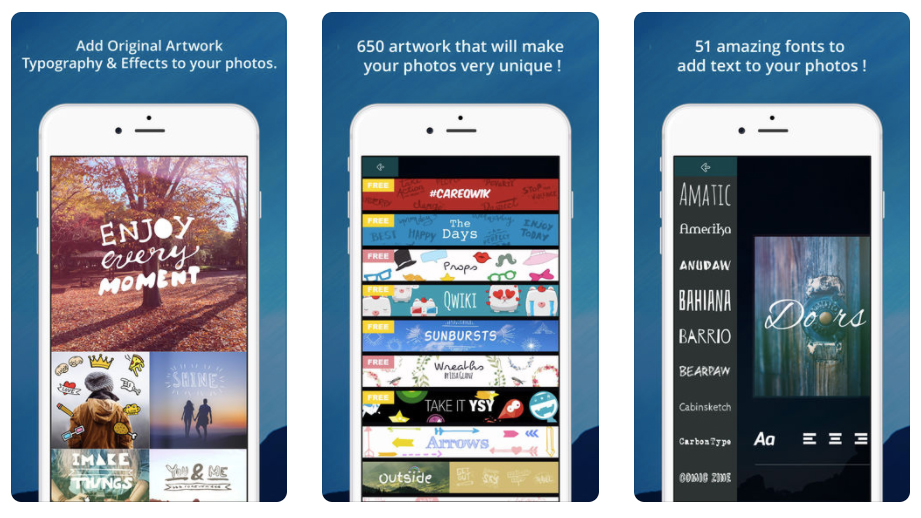 Platform: iOS
Developer: Guillaume Babusiaux
Price: Free
Qwik describes itself as 'the fastest and easiest way to make pretty photos,' and with over 50 filters, plus tons of fonts and frames, it's hard to argue with it.
Edit your images in seconds with straightforward hands-on tools, and share them with Qwik's online community. With new filters and features being added every week, Qwik is constantly keeping itself fresh and exciting.
07. PicLab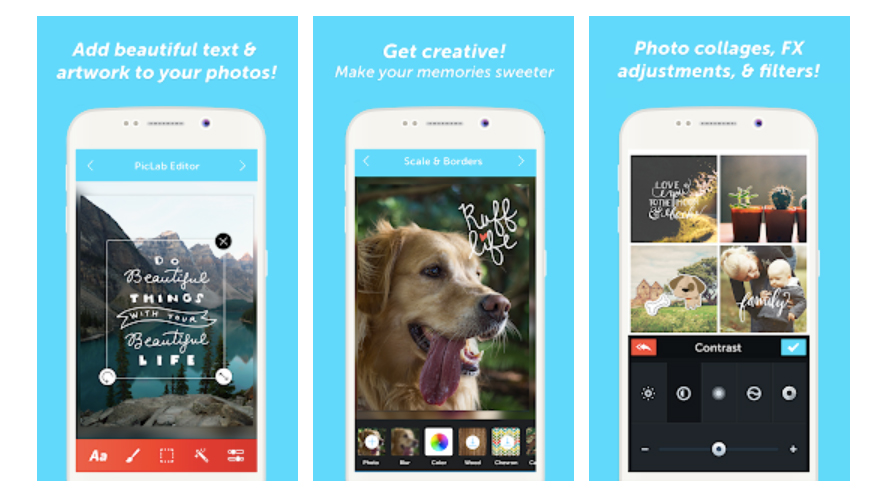 PicLab is a nifty app for creating those inspiring images that you get all over the internet these days. You know, the ones featuring a photo – probably with at least one retro filter applied – with a helpful aphorism layered over the top in an attractive, friendly typeface. Yeah, those – like the silly AI-generated ones we've featured, but better. PicLab HD makes them an absolute doddle to create, enabling you to either snap a photo or grab one from your photo library, then go to town on it.
As well as adding typography – lots of fonts and full control over size, positioning, opacity, rotation, and colour – you can also layer illustrations, ornamentation and other design elements on top of your image. 
PicLab features full layer-based editing and also packs plenty of tools for making your original photo look its best, with loads of lighting and film effects to choose from as well as preset photo filters and adjustment tools for fine-tuning the brightness, contrast, exposure, saturation, and the blur level of your photos.
08. Handy Photo
The selling point of photo editor Handy Photo is its interface, which uses the corners of the screen to cater for rotating menu options. It's all designed to keep the central area of the screen clear, allowing you to use swipe gestures to tone your effects up or down.
It's a powerful photo editor; the UI isn't for everyone, but this is an amazing price for the effects you get. The Move Me tool enables you to clip out objects and move, resize or flip them.
09. Facetune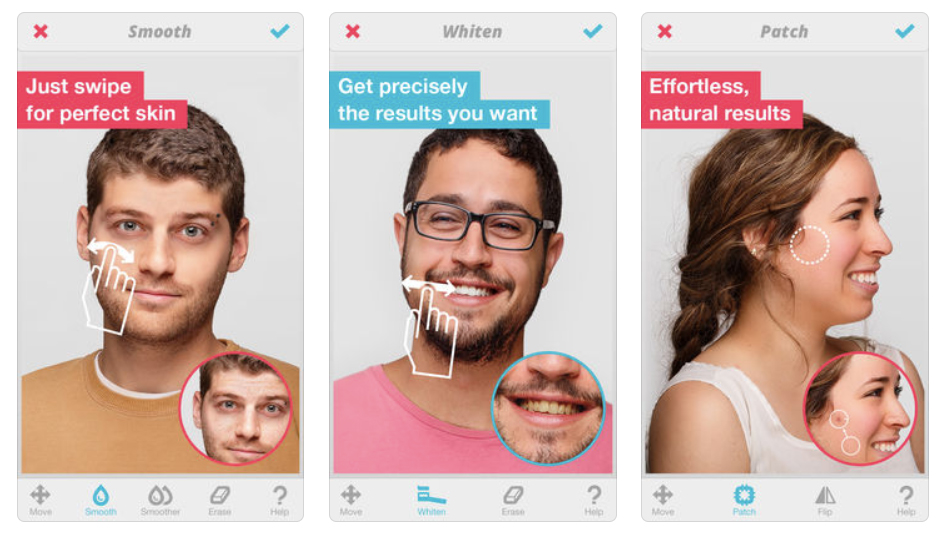 Developer: Lightricks
Price: $3.99/£3.99 (iPhone), $5.99/£5.99 (iPad), $5.99/£3.99 (Android)
Embarrassed about your laughter lines? Feeling blue about those blemishes? Fear not, Facetune is here! Grab a photo from your Camera Roll and start your makeover; you can remove unwanted freckles, blemished skin or hide bags under the eyes with Smooth; reshape that wonky nose or misshapen jawline with, er, Reshape; and make subtle tweaks of colour using Tone.
The results of this photo editor are truly impressive. You can share results over Facebook, Twitter and Tumblr – if you dare.
10. PhotoWonder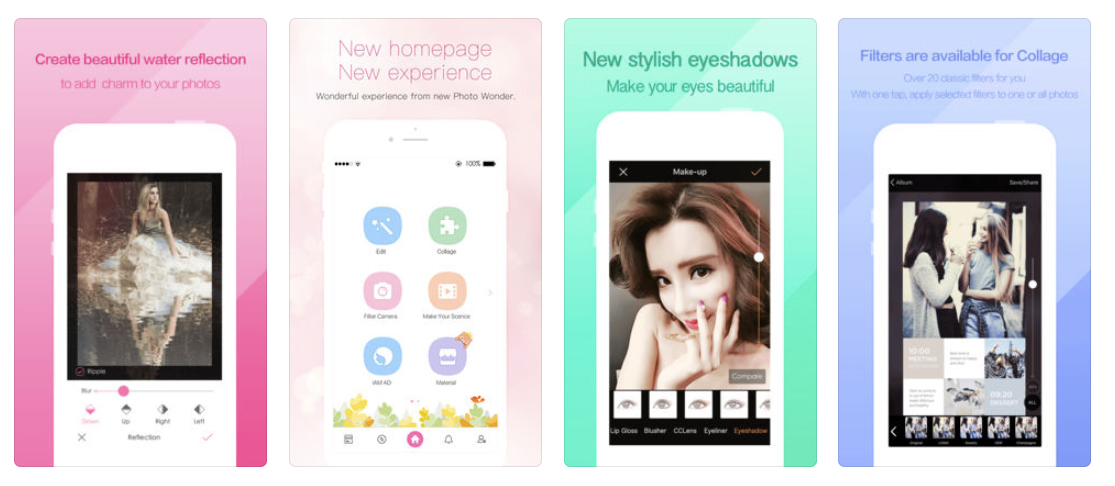 An excellent user interface makes Photo Wonder one of the speediest smartphone photo apps to use. It also has a good collage feature with multiple layouts and photo booth effects. The filter selection isn't huge, but many are so well-designed that you'll find them far more valuable than sheer quantity from a lesser app. The Vintage filter works magic on photos of buildings or scenery. Combine with Sweety for a dreamy retro effect.
11. Rakuga Cute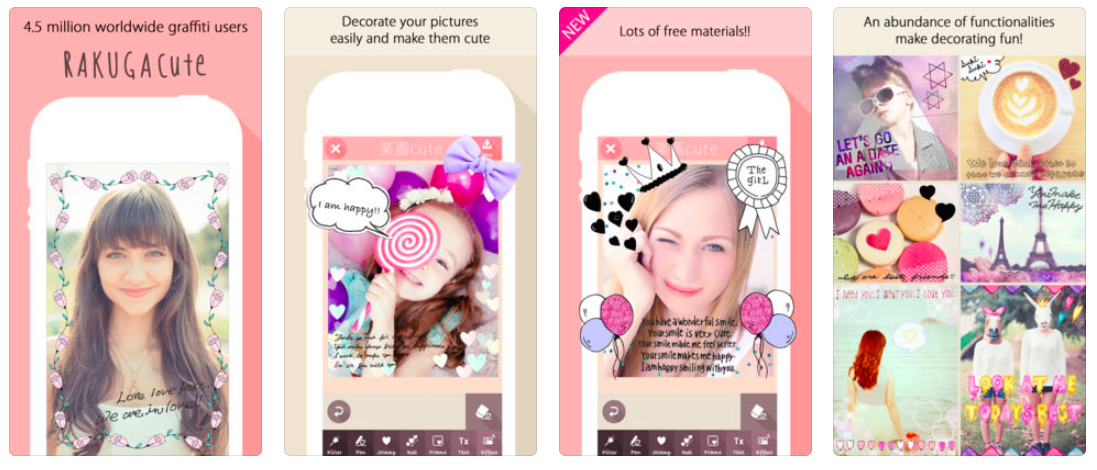 Platform: iOS
Developer: Tatsumi Electronics
Price: Free
At first glance this iPhone photo app seems aimed at Japanese schoolgirls rather than discerning designers, but Rakuga Cute actually contains some unusual editing functions that make it an interesting addition to your photo repertoire.
The Mosaic option lets you selectively pixelate any part of a photo, which is quite useful for blurring out license-plates, identities or should you feel so inclined, body parts.
Best Camera Apps
12. Halide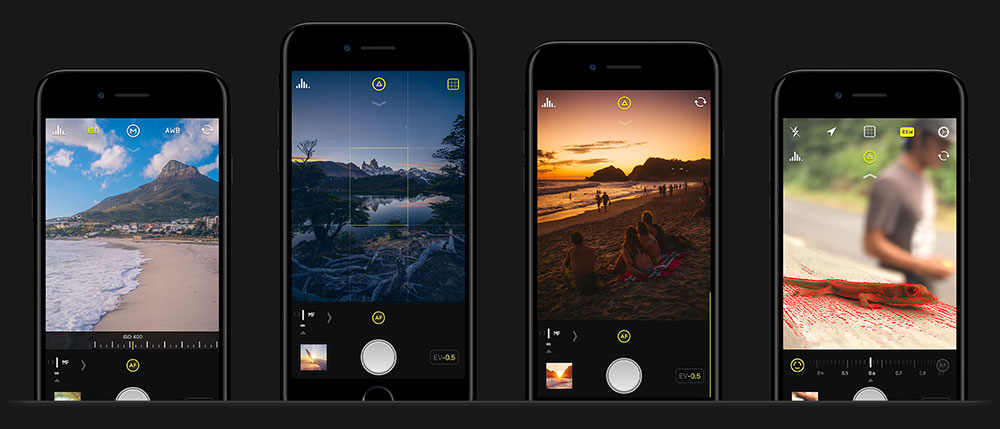 Platform: iOS
Developer: Chroma Noir
Price: £5.99/$5.99
If you love the convenience of mobile photography but miss the control you get with a full-on SLR, Halide is well worth snapping up. It'll work as a simple point and shoot, but with a swipe you can open up a whole load of lovely manual options, giving you tactile control over focus, ISO and shutter speed, as well as a live histogram to help you get the right exposure. 
You can review your photos Tinder-style, with a right swipe to add them to your favourites, and a left swipe to trash them, and Halide can even export as RAW to give you more flexibility when you edit your shots.
13. Camera MX
Platform: Android
Developer: Magix
Price: Free
The Android-exclusive photo app Camera MX combines powerful enhancement tools with a beautifully simple user interface. Thanks to intelligent image processing you can take visibly sharper snaps, as well as cutting and trimming them to perfection in the edit.
In the latest version, you can create dynamic photos with the Live Shot feature. By saving the last seconds before you actually take the photo, this app lets users capture moving snaps that can be relived and shared.
14. Lensical
Platform: iOS 
Developer: Apptly
Price: Free
Lensical makes creating face effects as simple as adding photo filters. Lensical is designed for larger displays and utilises one-handed gesture-based controls making it the perfect complement to the iPhone 6 and iPhone 6S Plus's cameras.
15. Camera+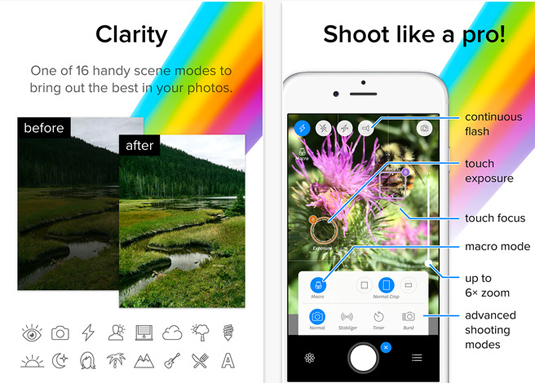 Platform: iOS 
Developer: LateNite Apps
Price: $2.99/£2.99 
The Camera app that comes on the iPhone by default is not brilliant: yes, you can use it to take some decent shots, but it doesn't offer you much creative control. This is where Camera+ excels. The app has two parts: a camera and a photo editor, and it truly excels at the latter, with a huge range of advanced features.
Camera+ doesn't just limit you to editing new pics – you can quickly import your existing photos into the Lightbox so that you can breathe new life into them.
16. Clone Camera Pro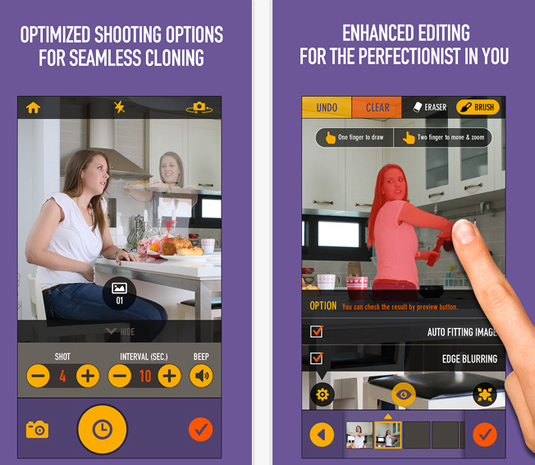 A smart photo-compositing app that allows you to double up on your images. Clone Camera lets you produce a 'photo' of a scene with the same person in it multiple times. It's simply a case of taking up to four photos of the same person in a different location, and then selecting the areas you want to stitch together into the final photo. The app works best if you have a tripod, or can otherwise keep your device still.
17. Camera360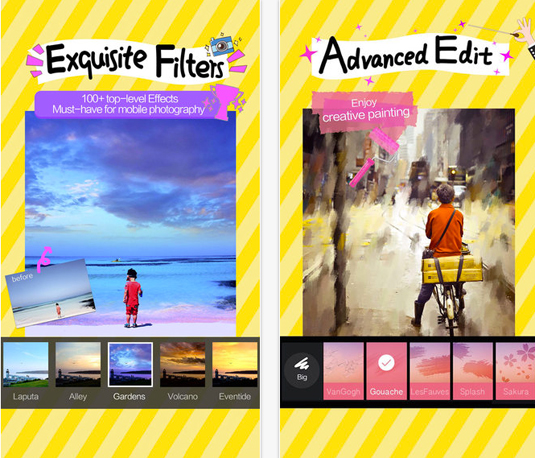 Camera360 is a remarkable smartphone photo app. It's perfectly self-contained with a huge range of functions, no ads and no insistence in promoting paid content.
Touching the photo after applying a filter produces a nifty quick comparison of the 'before' and 'after' versions. One drawback is that the process of importing photos is slightly tedious, with one too many clicks involved. Tip: go to Enhancement > Night for a great filter to correct slightly dark or underexposed photos.
18. LINE Camera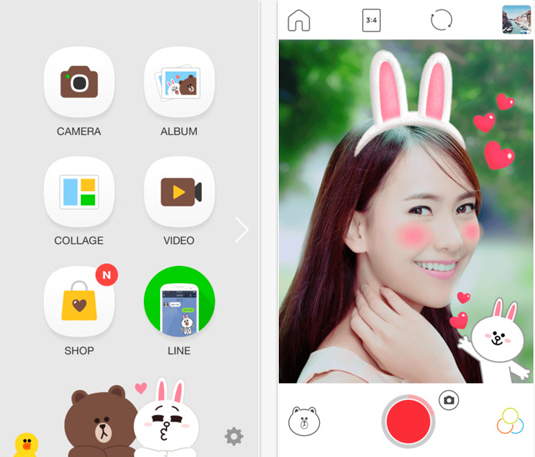 Sleek and easy-to-use, LINE Camera comes with a solid range of filters, borders, icons and stamps. You can also add text to your pictures in over 100 fonts and 20 colours, making this free smartphone photo app one of the best for typography. Check out Stamp > Heart Symbol > Shine for a nice selection of kitschy sparkle brushes.
19. Paper Camera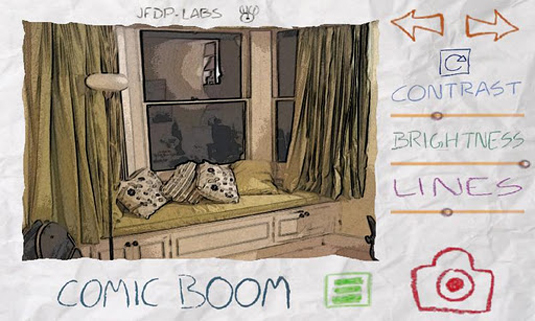 Filter effects aren't exactly a new thing, but Paper Camera takes a different approach to the post effects found in the likes of Instagram. What does it do? Well, it displays effects in real time on your camera as you're using it. There are some neat effects on offer – including cartoon, half tone and sketch.
20. Lifecake
Save and organise pictures of your children growing up with Lifecake. In a timeline free from the adverts and noise that clutter most social media channels, you can easily look back over fond memories and share them with family and friends.
Touted as 'a time machine of your child's life', you can skip to select stages and compare different dates. You decide who can see your images, and because Lifecake is now a Canon company you can order a printed album of your precious photos.
21. VSCO Cam
Connect with amazing photographers from around the world, and create your own stunning photography with VSCO Cam. Create your own VSCO Journal to join in with the community and find inspiration form other users. Unlike other social platforms, your followers and clout are not displayed, giving everyone an equal creative playing field.
VSCO Cam comes packed with top performance features, including high resolution imports, and before and after comparisons to show how you built up your edit. Introduce yourself to the community by downloading it for free.
Artistic Photo Apps
22. Prisma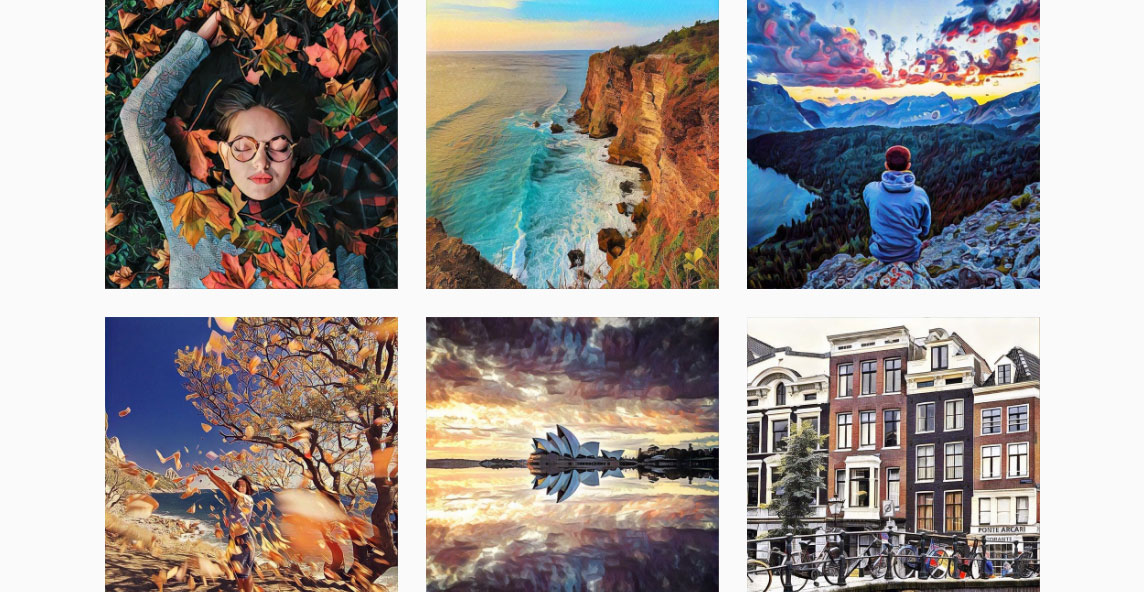 Better than any filter-based photo app, Prisma can transform your photos into masterpieces in the style of famous artists such as Van Gogh, Munch, Mondrian and Picasso. It uses an AI technique called style transfer to do its artistic magic, and it's no longer restricted to still images; it now works on video as well.
23. Instagram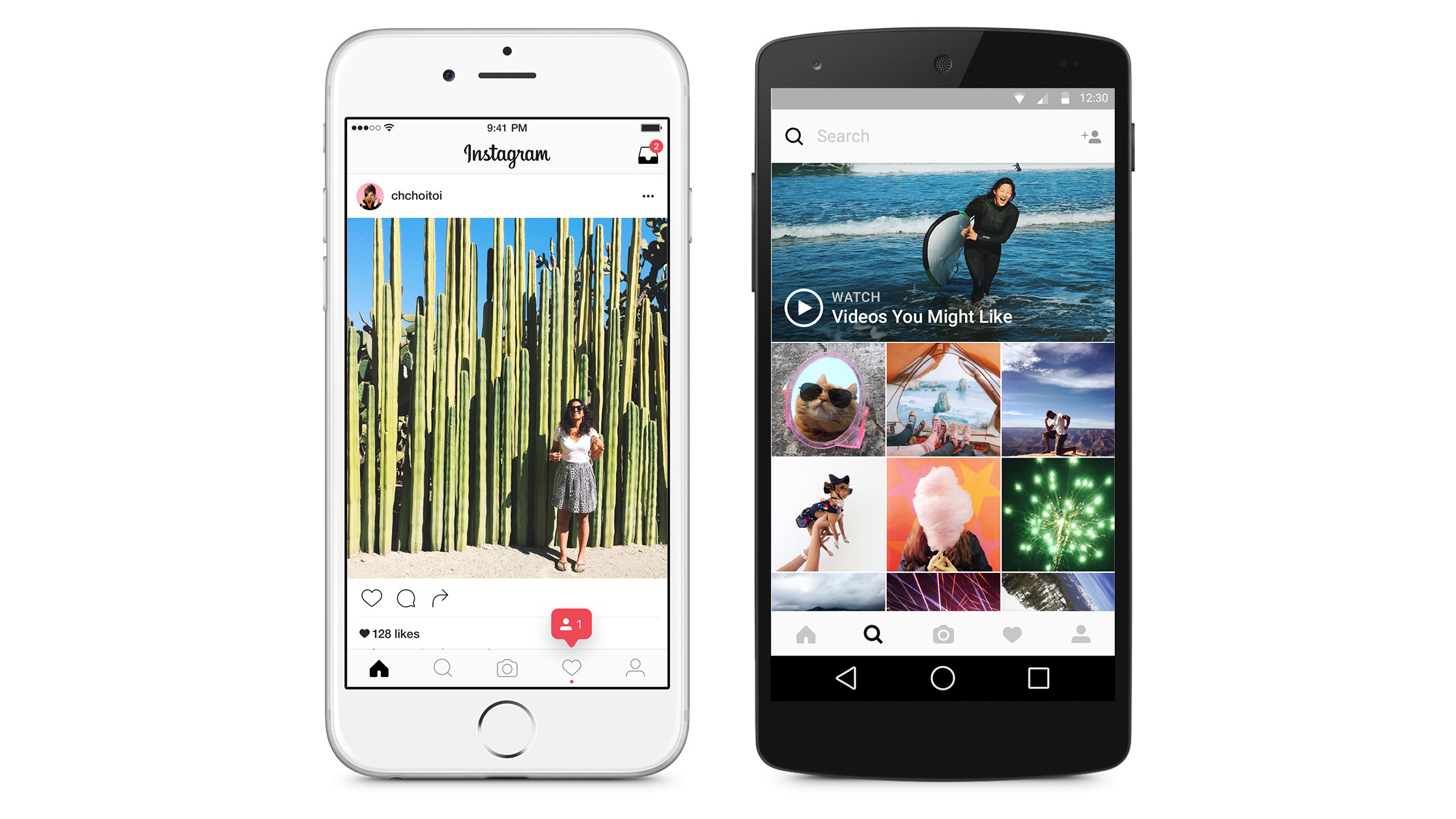 Even if you're new to the world of photo apps, chances are you've heard of Instagram. Capable of turning the most everyday photo into something glamorous thanks to its range of custom-designed filters and editing tools, Instagram has won over billions of fans and dedicated users.
Put simply, there is a reason Instagram is so popular. It's powerful, versatile, and best of all it's free. A wide range of filters and features allow you to create unique images, Stories and videos, a thanks in part to its ownership by Facebook, Instagram has also become a social media platform in itself. Instagram Stories let you communicate a diary of images or videos to your followers, and new feature Instagram TV now focuses on longer videos. 
24. PixelWakker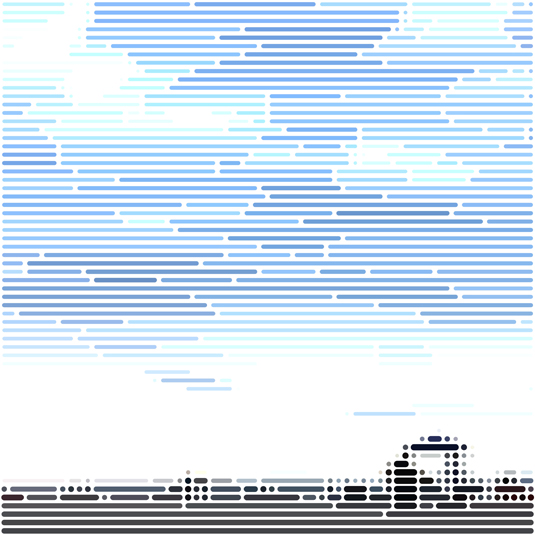 Platform: iOS 
Developer: Joseph Wrigley
Price: £1.99
If you're a fan of pointillism then this is the photo app for you. PixelWakker breaks down your images into their component pixels and that's where the fun begins. You can apply one of four great effects – pixel image, dots, line, or colour rain – to your pics and watch in wonder as dot art unfolds before your eyes.
25. Sktchy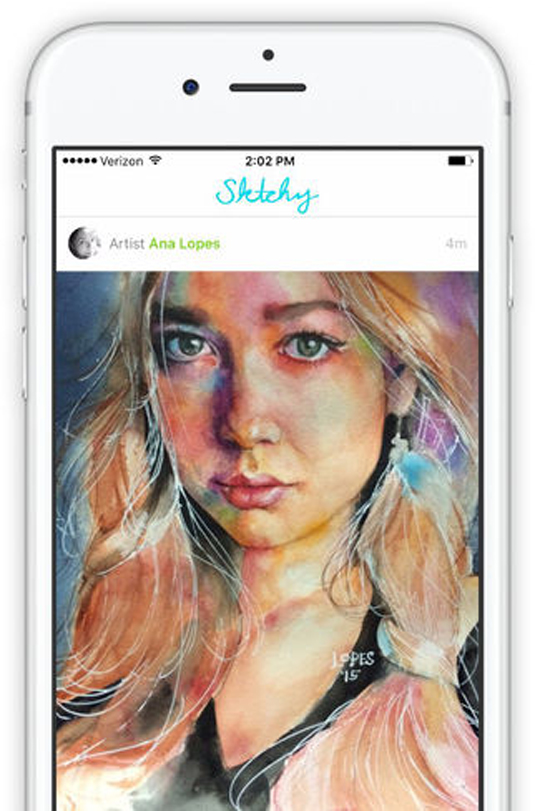 Platform: iOS 
Developer: Sktchy LLC
Price: Free
Connecting with people around the world in a new way, here you can choose from a selection of photographs, uploaded by the Sktchy community and create a portrait from that image.
Sktchy co-founder Jordan Melnick comments: "Our community of artists is growing every day because Sktchy is the perfect place for them to find inspiration and share their art with the world, in part because of the neat way we layer portraits over the photos that inspired them."
26. Photochop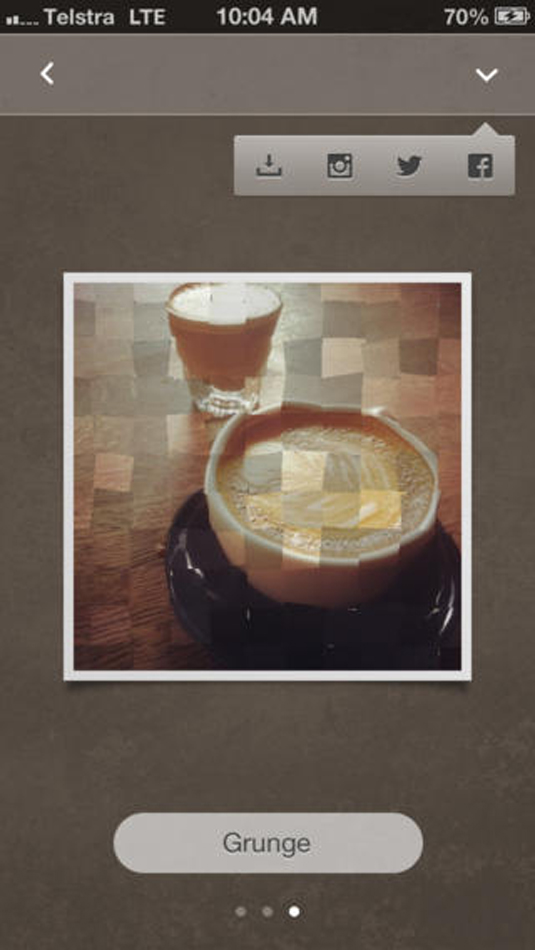 Platform: iOS
Developer: Big Bucket Software
Price: $0.99/£0.99
We probably like this app for its name (in full: Photochop – Chop Up and Distort Your Photos) as much as for its function. It's a cheap and cheerful little photo editor tool for mucking about with pictures. Simply pick a snap from your iPhone's photo library, chop it up into a set of tiles and then go wild.
You can either work directly with the tiles, dragging them around, rotating and resizing them to create a collage effect, or there's a warp mode that works in the same way but results in a distorted image rather than a collage. Obviously it's nothing you can't easily do in any image editing app in a couple of minutes and you'll be hard pushed to find a serious application for it, but it's a fun graphical toy to have in your pocket.
27. Path On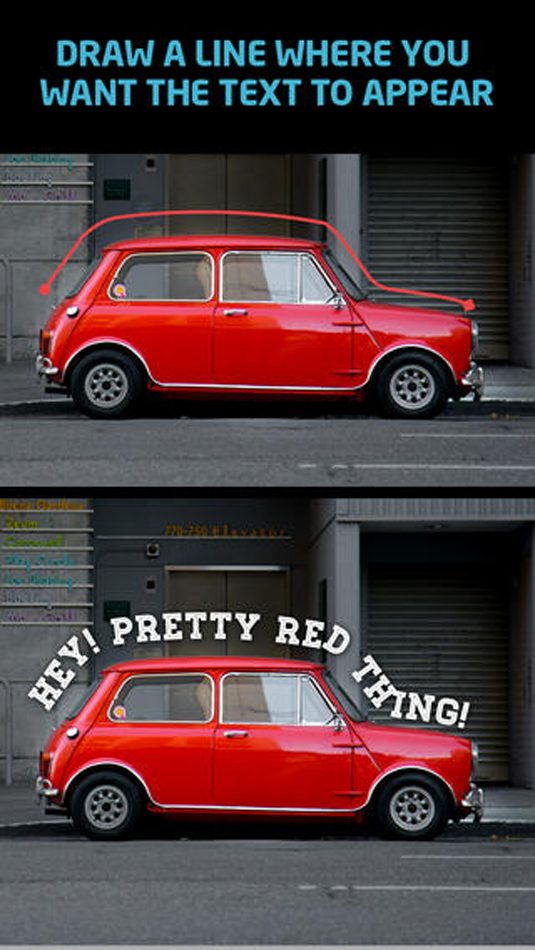 Path On lets you add funky text to photos in unique ways. You draw the path you'd like the words to take, then type in your message – the text then flows along the path. The custom options are the real killer feature here, with you being able to adjust the font, the letter space, and the alignment. Although it's a little fiddly, Path On is probably the best adding-text-to-photos tool around.
28. Geló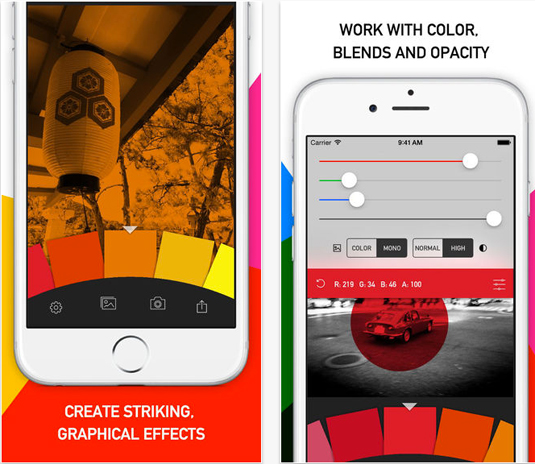 A splash of colour can alter the look of an photo dramatically. Give your iPhone shots some extra oomph with this cool app for the iPhone. Gradients have become a lost art in iPhone photography, but Geló fills that gap in the market well. It needs a little more patience than your average photo app, but persevere and the results are excellent.
Once you've taken or imported an image, you see a carousel of 'gels'. Cycle through to choose a colour, tap it, and then it's applied to your shot. Using the sliders you can tweak how the filter affects your shot, and you can easily apply specific RGB values though, that might mimic your favourite tints in iPhoto or Photoshop, say.
29. Retromatic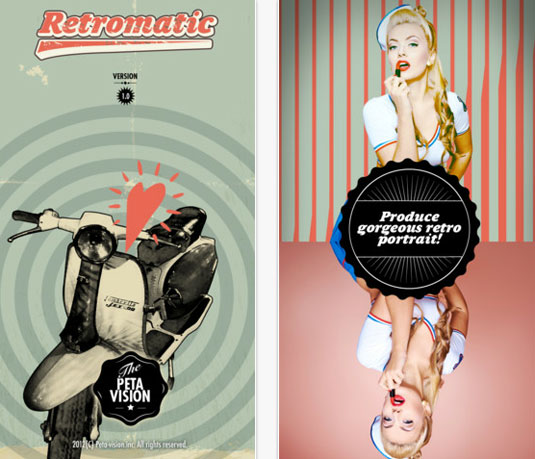 1950s-inspired photo app Retromatic enables you to import your photos, cut them out using an instant alpha tool, and then apply vintage effects to them. It's quick and easy to use, and looks great, although expect frustration if you want to do anything more than the basics. The instant alpha tool works well, but you have to hold down on the screen to make it switch between a brush and pinching to zoom.
30. Tadaa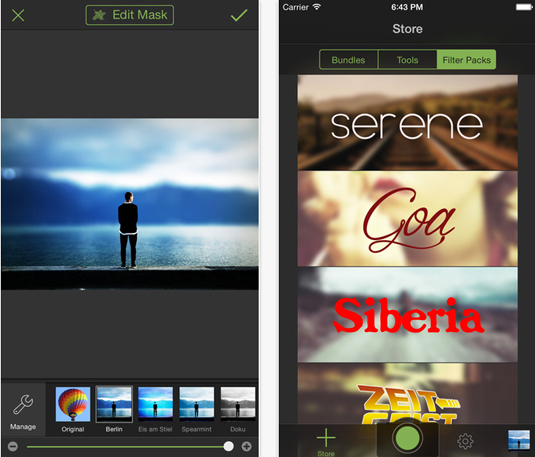 Platform: iOS 
Developer: Menschmaschine
Price: Free
Tadaa lets you adjust the strength of all its filters, which is ideal for people who like fine-tuning their photos with subtle effects. This iPhone photo app tries to get you to use its own social network, but you can still use all features without a login.
Click on the frame icon to access a nice range of photo film borders. Unlike Instagram and Magic Hour, you're not limited to a square and can apply the film border to a photo of any size.
Next page: the best photo editing software…
Photoshop is the world's go-to photo editing software – so much so that the word has become verbified, like 'Hoover' or 'Google'. This might give the impression that Adobe's photo editing software is the undisputed champion, but that all depends on what you use it for – for your purposes it may be a case of using a sledgehammer to crack a nut.
There are a wide range of capable alternatives to Photoshop, some of them paid-for and some free, but this list of the best photo editing software wouldn't be complete without the ubiquitous Adobe application as well. Here is a selection of the very best for desktop and browser, and some come with mobile versions, too.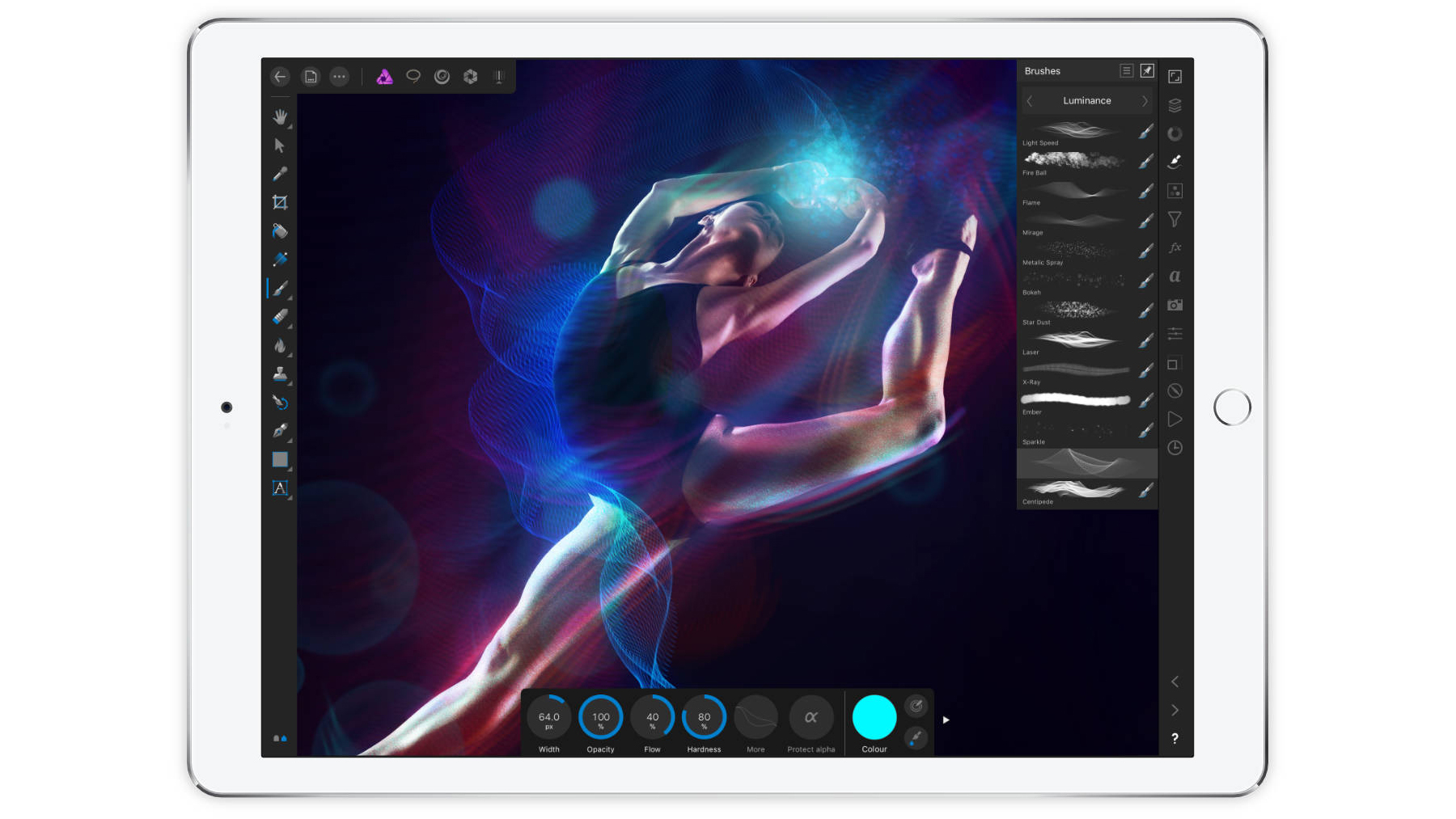 Platform: Windows, MacOS, iOS (iPad only)
Developer: Serif 
Affinity Photo is a professional-level tool without the high-end price tag. Digital painting, raw editing, professional retouching and multi-layered compositions are among Affinity Photos impressive toolset. Features also include advanced lens corrections and best-in-class noise reduction, allowing full control and quality over every image.
Affinity Photo is also available as a dedicated iPad app. The first professional photo editing tool to make its way onto the Apple tablet, it took home the title of Apple App of the year 2017. Serif also has a graphic design package, Affinity Designer, which shares the same file format as Affinity Photo, so your all your design tool needs are fully covered.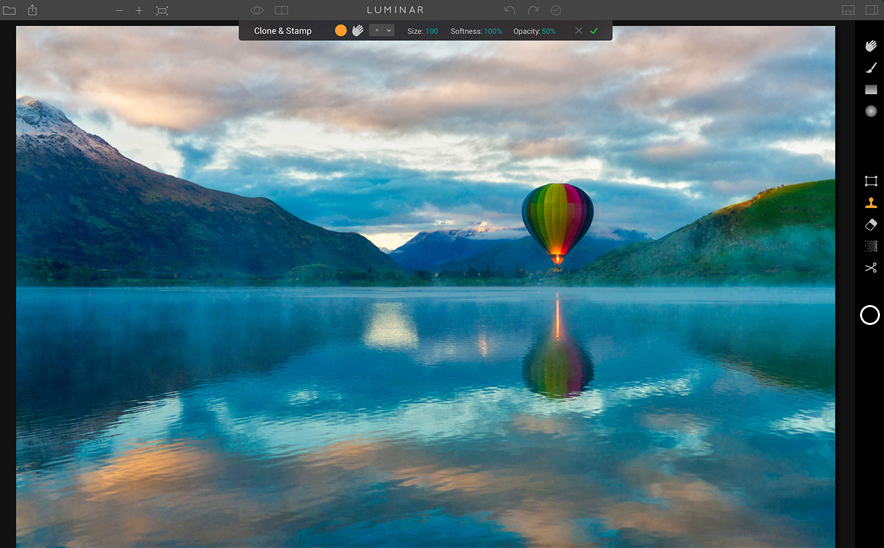 With a reasonable, one-off price, the latest version of Luminar 2018 is well worth checking out. It's stuffed with tools for quick and easy photo fixes, including fast automatic corrections for lens distortion, chromatic aberration and removing fringes, as well as more than 40 non-destructive filters to enhance your shots.
Luminar 2018 also features a stack of pro tools to help you squeeze the best possible quality out of your images, including including manual lens correction, layers with blending modes, masks and a history panel, and best of all you can use your existing Photoshop plugins and also convert your Lightroom presets to its Lookup Table format.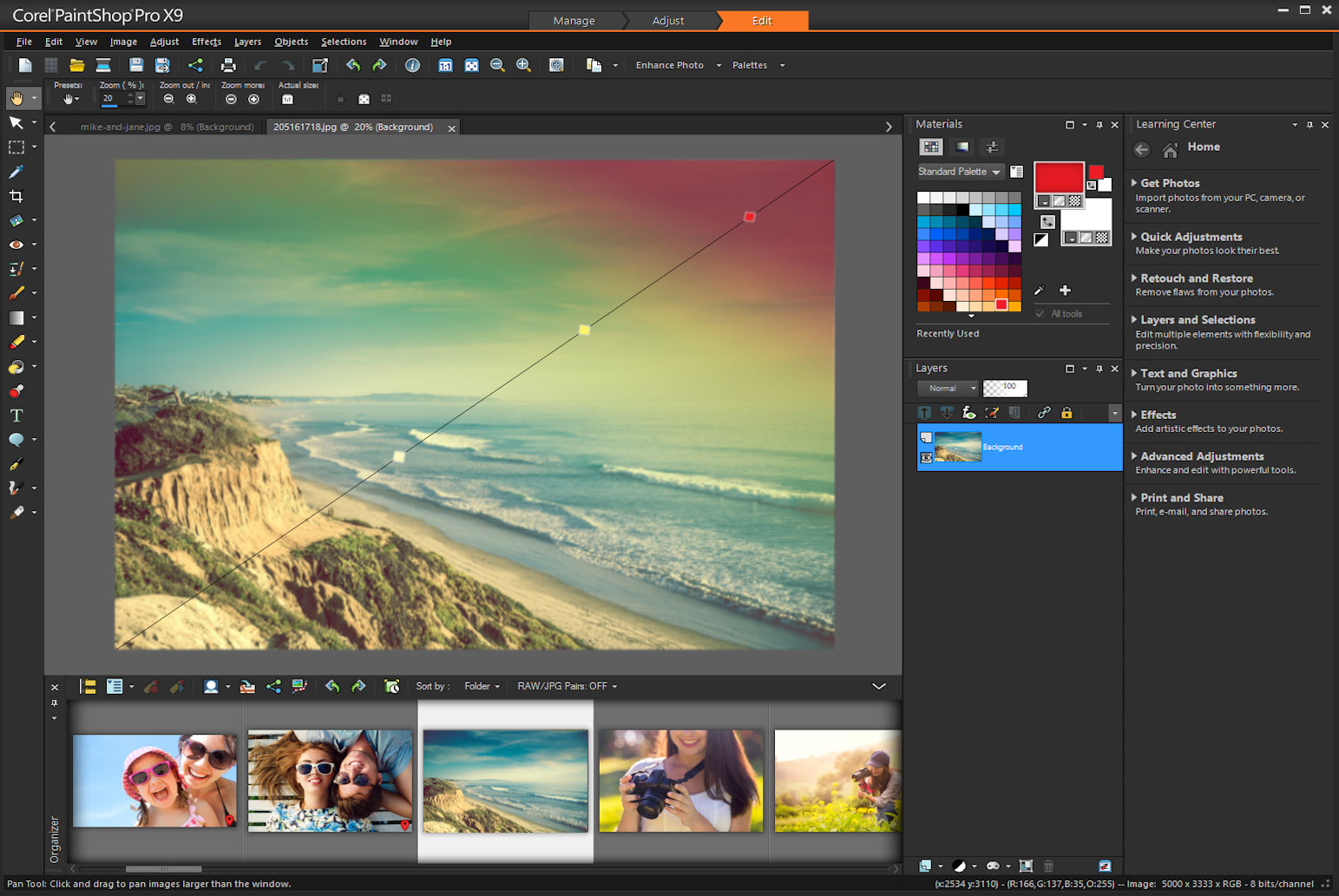 PaintShop Pro has been the budget Photoshop alternative of choice on PC for over 20 years, and it's still holding its own. The new 2018 version promises to be easiest, faster and more creative than ever. It features ready-made project templates, a built-in screenshot function with a smart capture mode that lets you grab part of the screen, a gradient fill option and improved support for graphics tablets and styluses.
On top of the standard version, you can pay a little extra for PaintShop Pro 2018 Ultimate, which adds professional-grade raw editing, automatic photo corrections and screen recordings to the mix.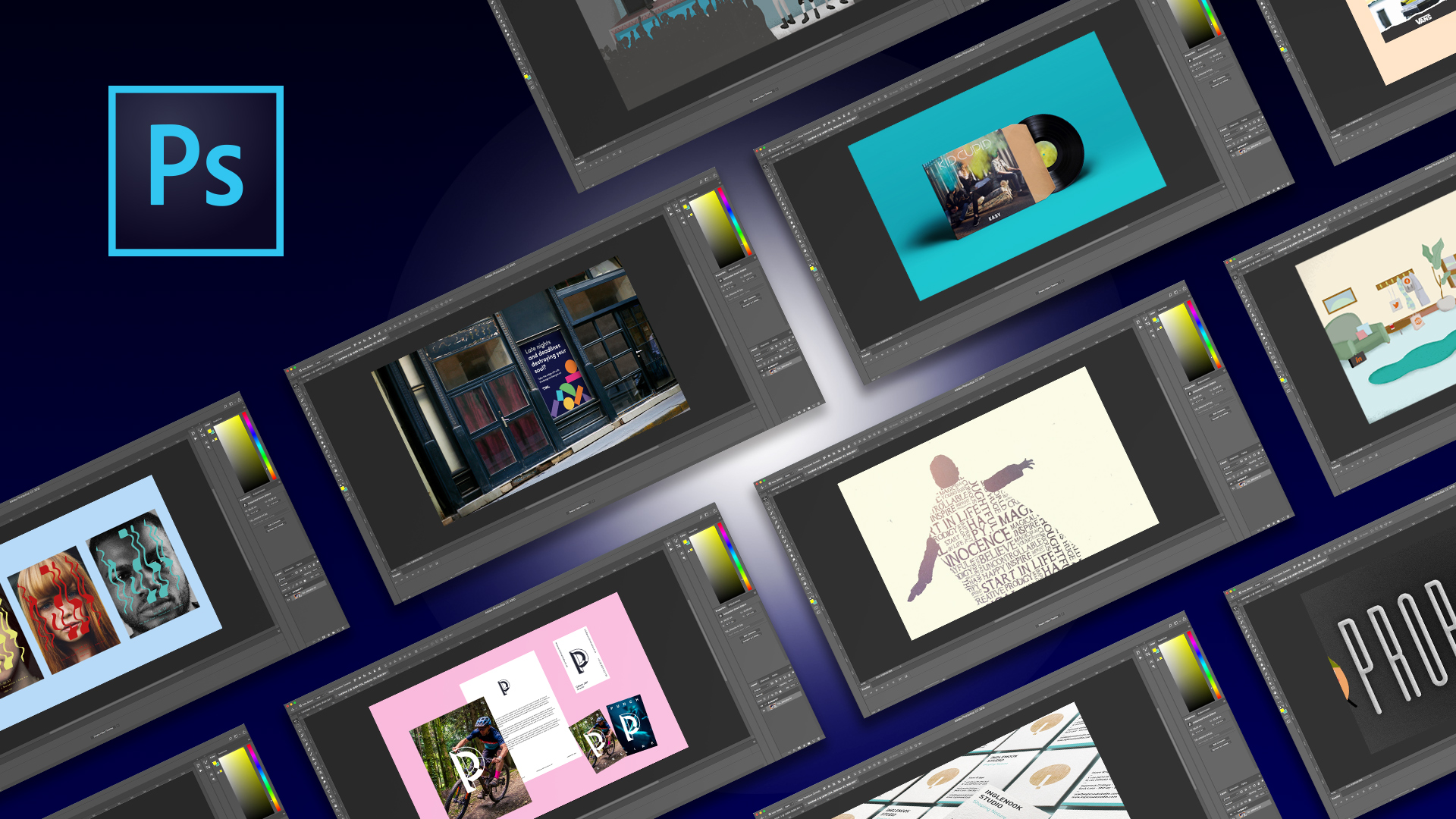 Photoshop CC is head-bangingly brilliant, and has too many features to summarise in this small space – but you can read more in our Photoshop CC 2018 review and explore its capabilities further in our Top Photoshop tutorials article.
There's no doubt that the latest Photoshop is a hugely impressive photo editing application; probably the best out there. But it comes at a monthly cost. Check out our exclusive Creative Cloud discount if you don't already have the package.
Adobe Lightroom allows you to keep all your photography in one place, and organise, edit and share it from anywhere. Many creatives opt to use Lightroom as it can tackle the complex image management jobs Photoshop is not designed for, making light work of day-to-day enhancements and raw files.
With Lightroom you can store images on your computer, iPad, iPhone or Android device and even transfer photos automatically from your phone into Lightroom as you shoot them. Syncing takes care of itself, so when you make an edit or flag a favourite in one place, it's automatically updated everywhere else.
Read our Adobe Creative Cloud review.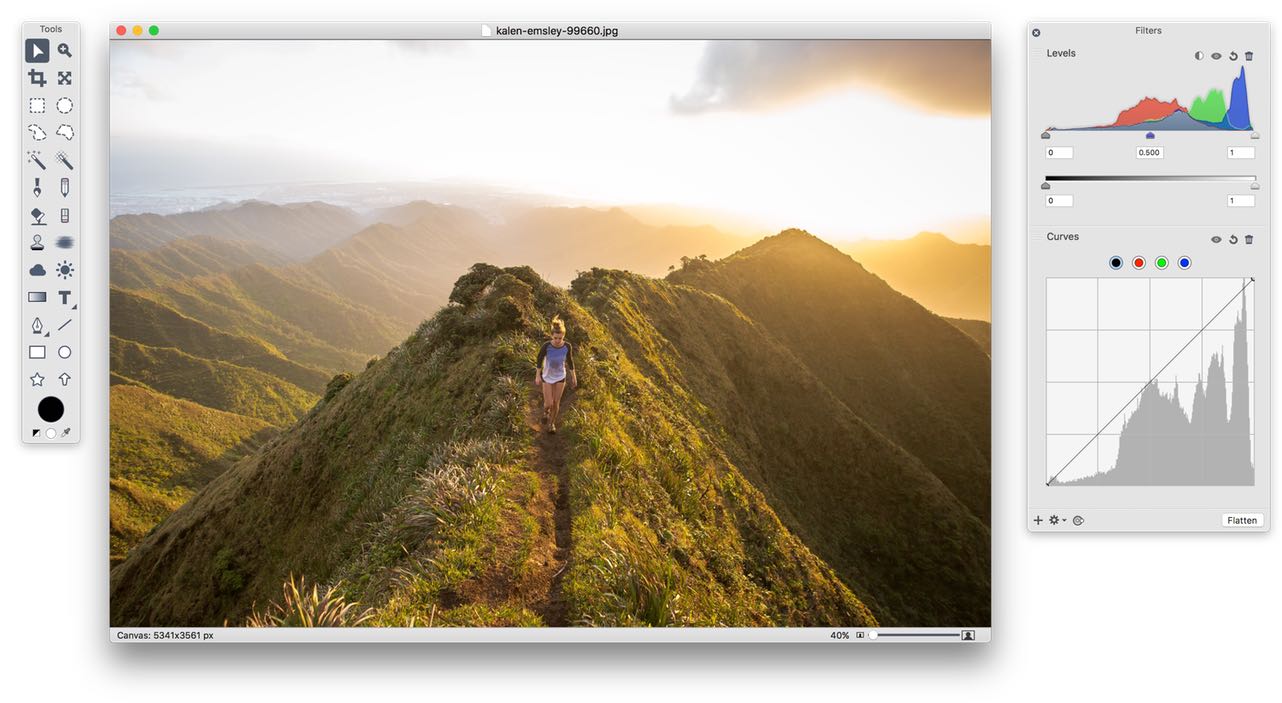 Image editing software Acorn debuted back in 2007 and has provided hobbyists and artists on a budget with a great, affordable piece of photo editing software. Features include layer styles, non-destructive filters, curves and levels, blending modes and much more.
Acorn 6 features non-destructive filters, which includes a great interface to chain filters together to create unique effects. You can even save and modify your filters after you've closed and reopened your Acorn image.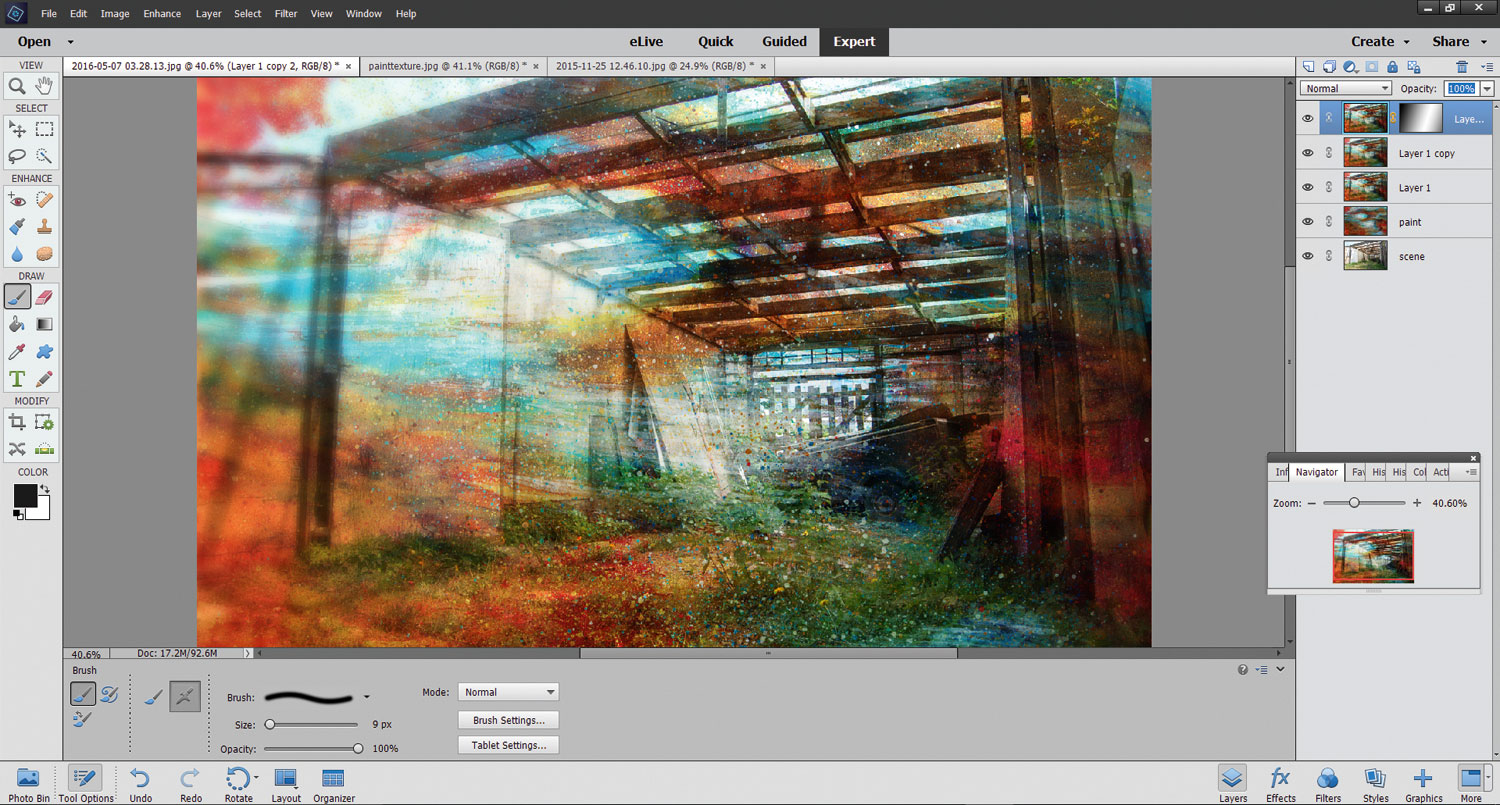 This is the basic alternative to Photoshop CC, as reflected in its great Quick and Guided Edit modes, but don't think that means it lacks power under the hood. Also, unlike Photoshop CC, Elements doesn't require a subscription.
It's now on the 2018 version, with better organisational tools, intelligent editing tools such as the ability to open closed eyes, options to print your images and features to make it easier to share images via social media.
Read our Photoshop Elements review.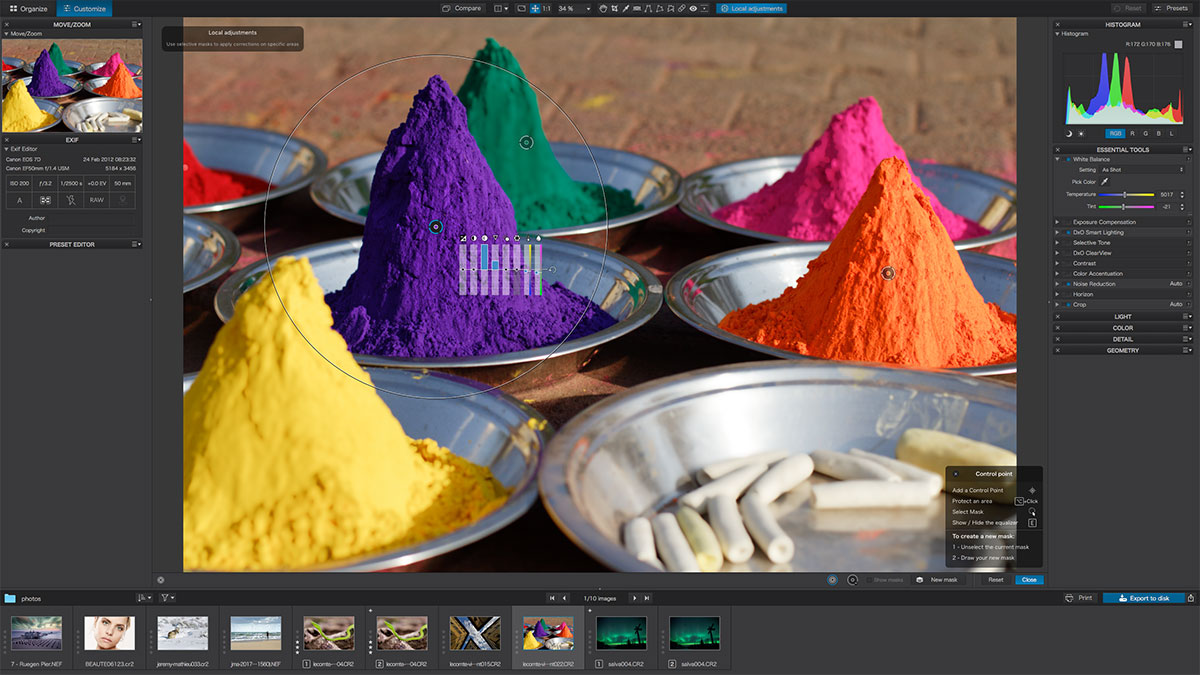 Platform: Windows, MacOS
Developer: 
Things get a bit specific with PhotLab, but what it does, it does very well. Its results are spectacular, but it's a specialised and sometimes complex tool to use. It's arguably the best raw converter of all, but that's just about all it does.
DxO PhotoLab automatically compensates for the different degrees of distortion, chromatic aberration, edge softness and vignetting common to practically all digital camera lenses.
It's also a raw converter, and DxO has applied just as much scientific rigour to this process as its lens corrections. You can browse the images on your computer, folder by folder, then select an image and choose from the default conversion/correction setting or a range of presets
The results are excellent. However, it would never be your one and only image-editing tool.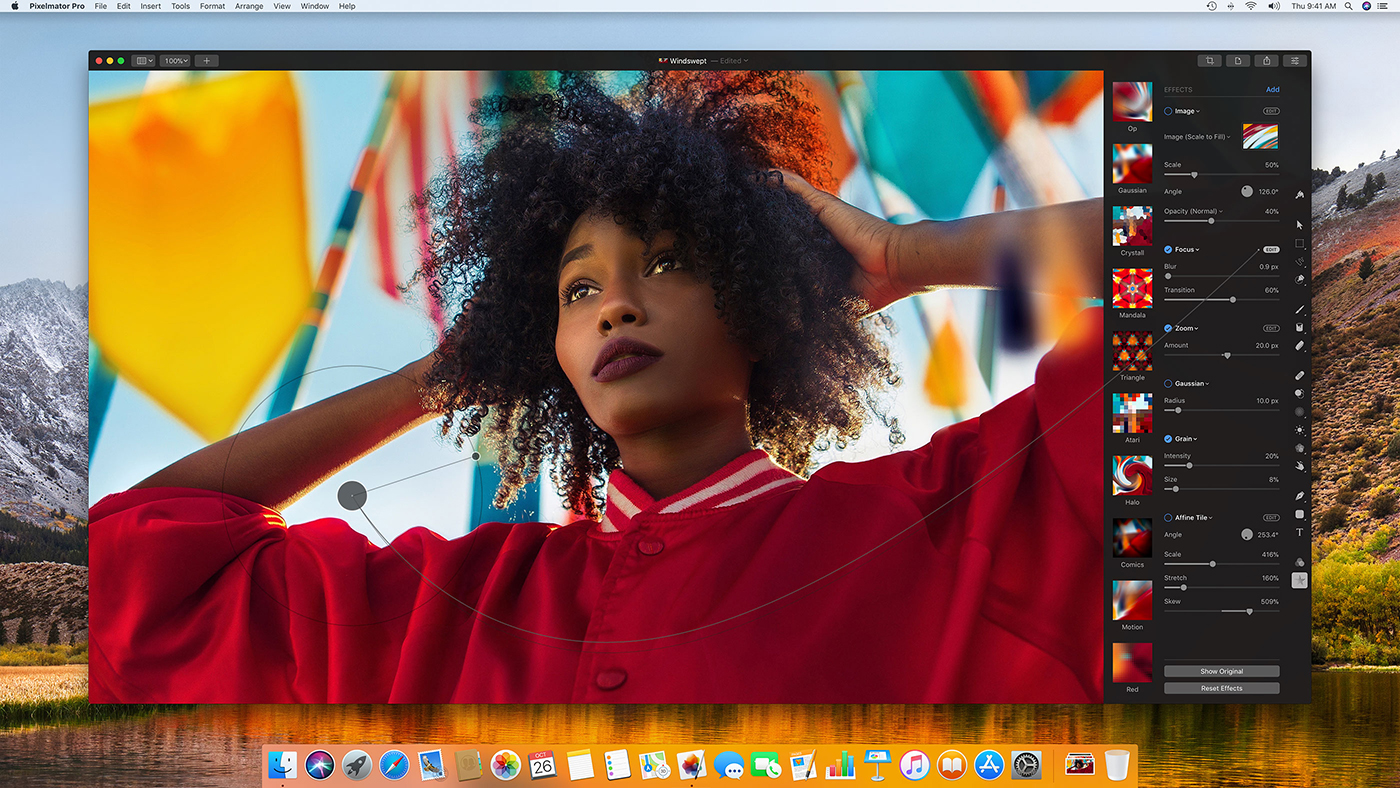 Pixelmator uses Mac OS X libraries to create fast, powerful image editing tools, which allows the software to integrate seamlessly with the likes of iPhoto and Aperture, as well as iCloud. There are also built-in export tools for Facebook and Flickr.
Colour correction tools such as Hue/Saturation, Shadows/Highlights and Contrast are all present and correct, and Pixelmator supports filters and comes with a collection of 150 to play with. You can also open and save images in many of the popular formats, including PSD, TIFF, PDF and PNG.
When saving or opening Photoshop documents, layers are preserved allowing you to collaborate effectively with colleagues using Adobe's software.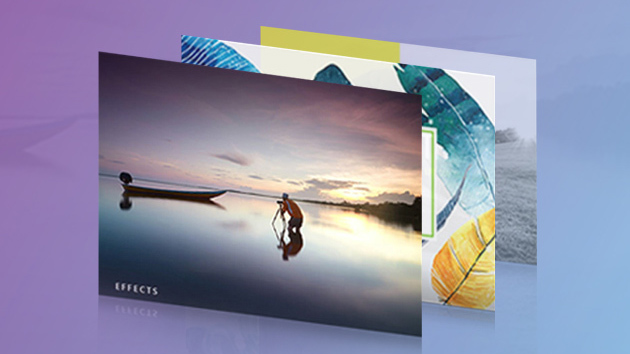 Whether you're at your desk or out and about, there's a version of Fotor ready for you to take care of any essential photo editing. It comes in mobile, web and desktop app flavours, and features a full suite of tools that should cover most of your immediate editing needs.
If you want an instant fix there's a one-tap enhance button that you'll either love or hate, and if you need more control you'll find tools to resize, crop, rotate and straighten your images, as well as a background remover. Fotor also packs some handy retouching tools such as red-eye and wrinkle removal, and there's even a HDR image creator and tilt-shift editor if you want to turn to turn your photos into something a little more epic.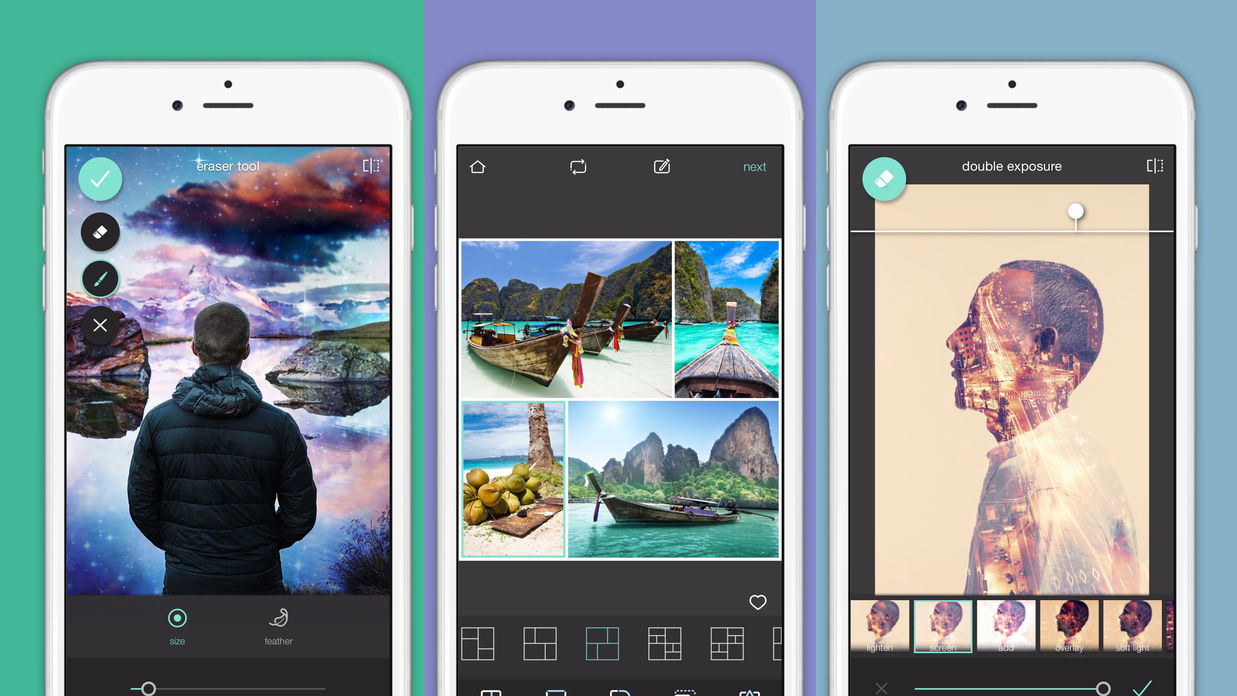 Pixlr claims to be "the most popular online photo editor in the world", which may have something to do with the fact that it's free. But it also boasts more than 600 effects, overlays, and borders and lets you do all the main things you'd expect from a photo editor, from cropping and re-sizing to removing red-eye and whitening teeth.
And if you're used to using Photoshop, you'll find Pixlr's user interface easy to pick up quickly, as it's very similar.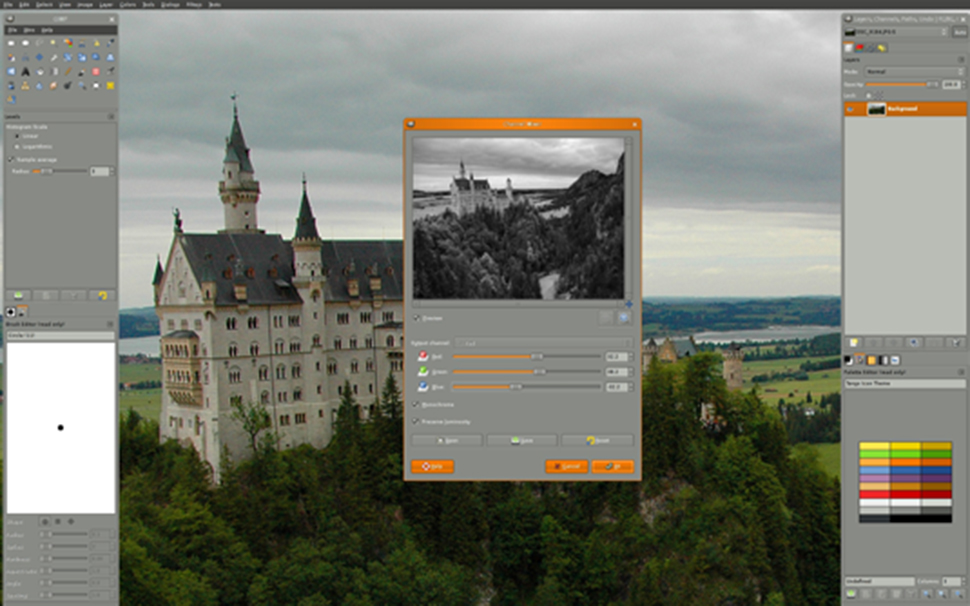 Platform: Windows, MacOS, Linux
Developer: GIMP
Price: Free
An open-source photo editor that debuted on Unix-based platforms, GIMP stands for GNU Image Manipulation Program. Today it's available in versions for Linux, Windows and Mac. GIMP offers a wide toolset – everything you're accustomed to is within easy reach, including painting tools, colour correction, cloning, selection, and enhancement.
The team that oversees development has worked hard to ensure compatibility too, so you'll be able to work with all the popular file formats without any trouble at all. You'll also find a very capable file manager built in, along similar lines to Adobe's Bridge.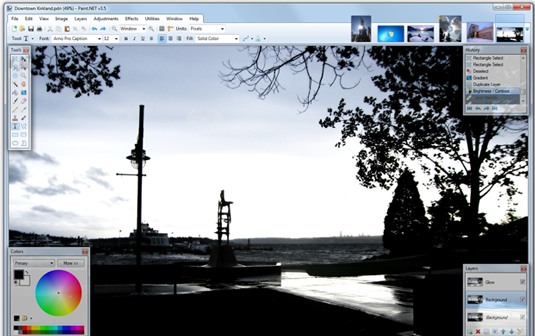 Platform: Windows
Developer: dotPDN LLC
Price: Free
Paint.net is a surprisingly capable and useful tool, available completely free of charge. The focus is on ease of use, and there's a definite tendency towards photo editing rather than artistic creation.
That said, there are a range of special effects available, allowing you to easily create fake perspective, blend and push pixels around the canvas, tile and repeat selections, and so on.
A good range of selection tools, support for layers, and adjustments such as curves and brightness/contrast mean that Paint.net is a great alternative to Photoshop for photo editing, especially if you can do without some of the more recent additions to Photoshop's toolset.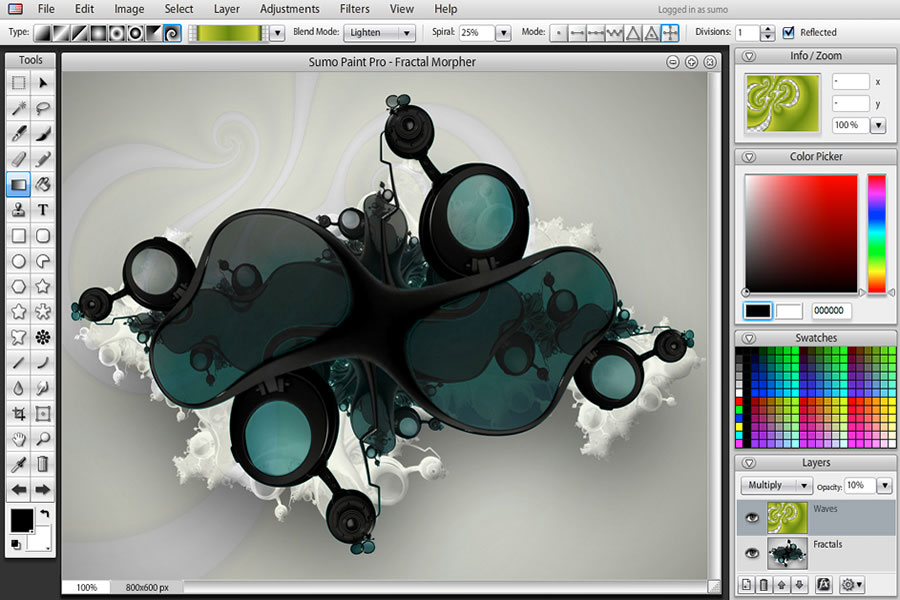 Platform: Web browser (requires Adobe Flash Player)
Developer: Sumoware
Price: Free for basic online version
Sumo Paint is a highly capable browser-based image editor. All the standard features you'd expect from a desktop tool are present and correct and by buying the Pro version for $19 you can install a desktop version of the app if you prefer. You need Adobe Flash Player to use this tool, so you're not going be using Sumo Paint on your iPad.
The standard range of tools and adjustments you'd expect are all included. Brushes, pencils, shapes, text, cloning, gradients and so on are all quickly accessed from the Photoshop-esque floating toolbar. It can also open saved documents from your hard drive, making Sumo Paint a perfectly viable option for editing and reediting.
There are, however, limitations that will put off some users. The most important of these is that the editor appears to be RGB only, limiting its use to screen-destined artwork only. No CMYK, Lab or other colour models to be found here.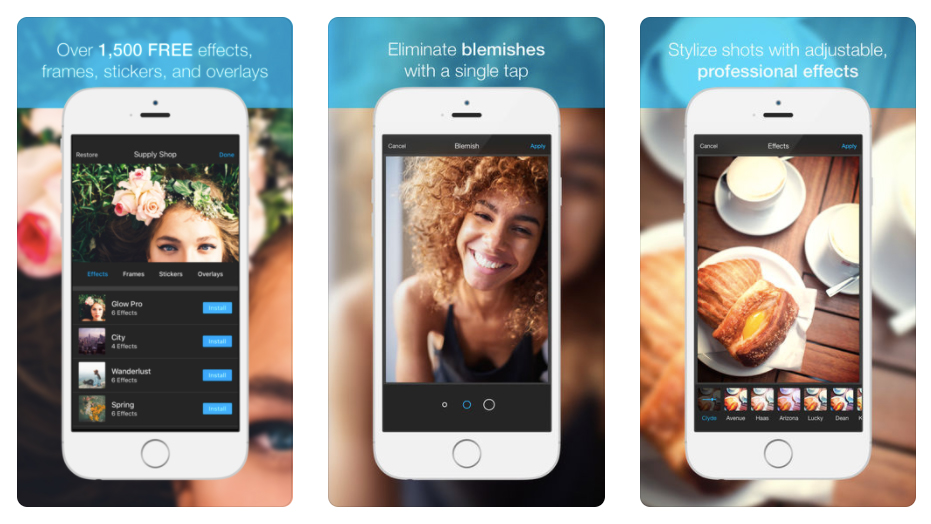 Aviary is a pleasantly designed app that strikes the perfect balance between serious photo editing (with blemish removal, tooth whitening, resizing and adjustments) and playful photo-decoration functions (such as stickers, coloured overlays and the ability to add mem-style text) without looking bland or childish.
Related articles:

Source: Creativebloq
---